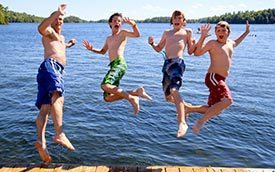 Over the years, it has become somewhat common knowledge that the Muskoka, Ontario region is rife with several iconic attractions, outdoor activities, and scenic tranquillity. Combined with its ideal proximity to the greater Toronto area, these factors significantly make our beloved locale a prime destination for friends and family to rejoice in life's finest moments. As such, there are many reasons to pay a visit to Muskoka, but perhaps one that may not immediately come to mind is finding everything you could want and more at Severn Lodge in Port Severn, Ontario.
Port Severn is Only 90 Minutes from Toronto
When you take a look at the map, it's easy to understand why so many people from the Toronto metropolitan area choose Severn Lodge. Ontario's Muskoka-Georgian Bay region is far enough to make it feel like you're getting away from it all but close enough to make your travel plans easier. And although weekend summer traffic is usually part of the experience, once you make your way out of the suburbs, it's smooth sailing to Port Severn. After you arrive at Gloucester Pool, you may find yourself letting out a sigh of relief as your family vacation unfolds.
Severn Lodge is More than a Place to Stay in Muskoka
Unlike boring hotels or rugged campgrounds, Severn Lodge offers well-appointed hotel-style lodging amid approximately 100 acres of lush green space and beachfront. What's more, families of all sizes will find plenty of room to have fun and explore while creating cherished memories. Whether you and your crew require a room, suite, or cottage, you'll have a place in Muskoka at Severn Lodge!
Muskoka, Ontario's Premier Family Resort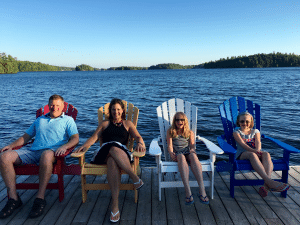 As one of Muskoka's last remaining traditional family resorts, there's something to be said about the nostalgic appeal of Severn Lodge. Sure, there are plenty of high-end luxury vacation options to consider. Still, you'll be hard-pressed to find one that provides the same level of timeless simplicity found at Ontario's premier award-winning family resort. With all-inclusive packages, delicious and nutritious meals, evening entertainment, and things to do nearby, we're willing to bet your first visit won't be your last!
The Best Muskoka Resort near Toronto
Every year we're delighted to learn who will be visiting us for the first time, but what especially warms our hearts is catching up with our returning guests. Severn Lodge has played host to multiple generations, and we hope you'll consider embarking on a new tradition in the Muskoka, Ontario region. For more information about Severn Lodge, our vacation packages, or anything else, please reach out to us online or call 800-461-5817 today!