Nearby Attractions Await Your Discovery
From historic landmarks to breathtaking natural beauty, there is something for everyone to enjoy. Whether you're seeking outdoor adventures, cultural discoveries, or family-friendly entertainment, this guide will help you make the most of your stay at Severn Lodge by providing insights into the unforgettable attractions just a stone's throw away. Embark on a journey of exploration and create memories that will last a lifetime.
Unveiling Nearby Treasures: Explore the Splendors Just Moments Away
Experience A Magical Escape: Santa's Village in Bracebridge, Ontario - Where Dreams Come Alive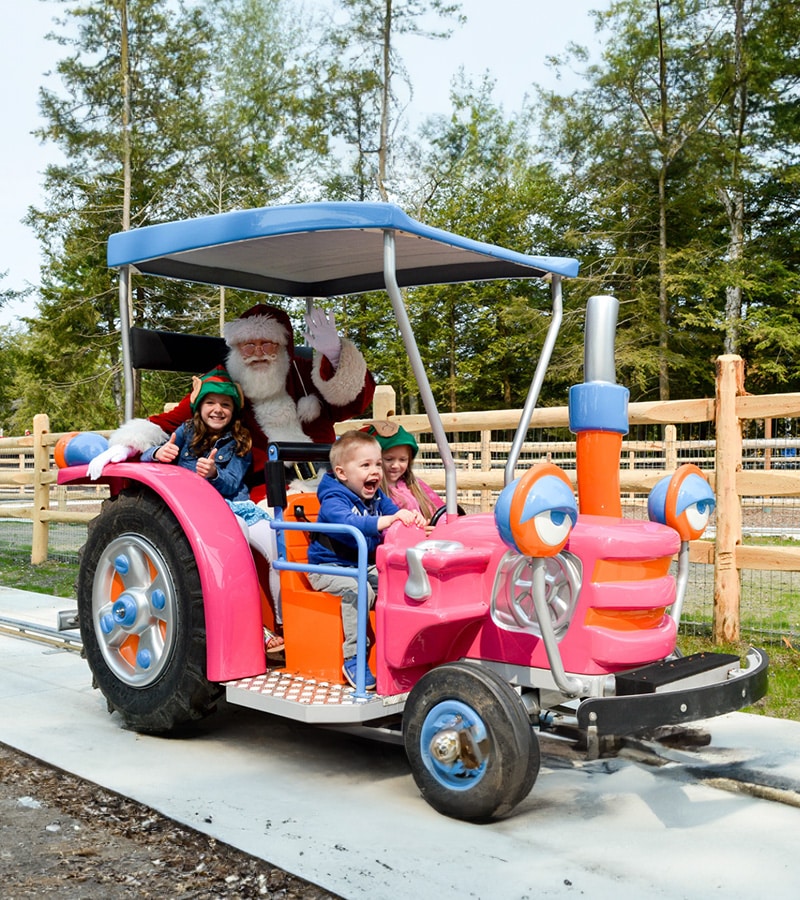 Santa's Village, located in Bracebridge, Ontario, is a delightful 60-acre family theme park situated along the picturesque Muskoka River. Since 1955, Santa and Mrs. Claus have graciously opened their summer home to families seeking enchantment. With over 25 thrilling rides and attractions, including two roller coasters, a river cruise boat, a splash pad, and even an elf school, there's no shortage of excitement to be found. Don't miss the chance to meet Santa himself in his charming summer abode. Conveniently, ticket packages can be easily purchased at the front desk for a memorable family day out.
Embark on a Serene Journey: Discover the Beauty of the Surrounding Waters through Boat Cruises
Discover the Majestic 30,000 Islands: Parry Sound Boat Cruise on Georgian Bay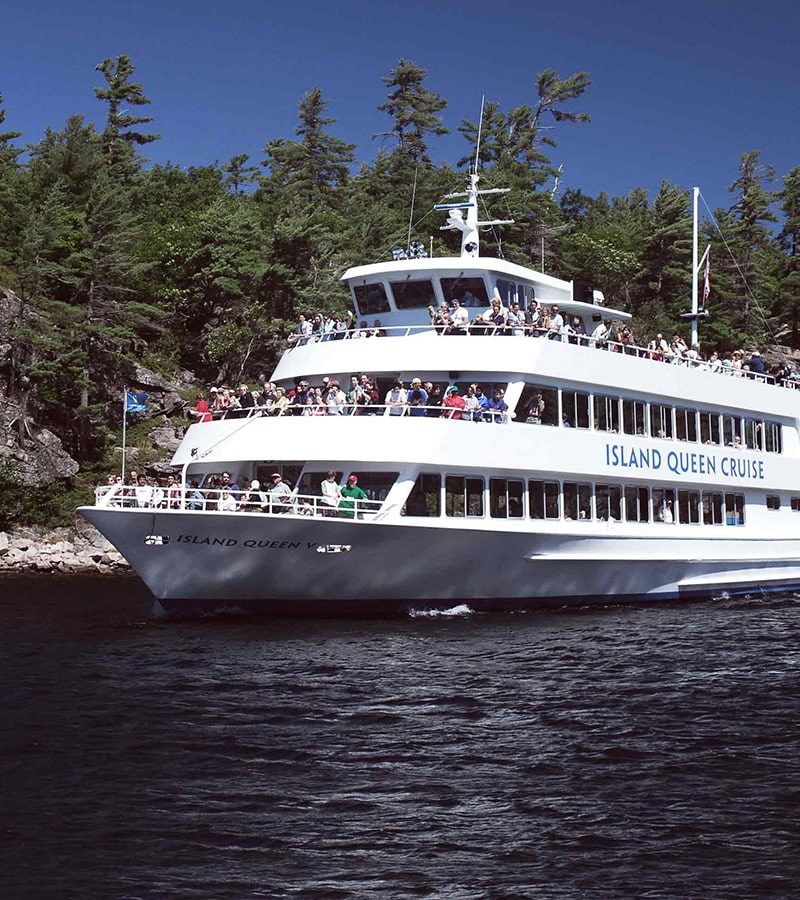 Experience the captivating beauty of the 30,000 Islands on our two-hour morning cruise departing from Parry Sound. This iconic cruise dates back to the late 1960s when our wooden taxi boats would embark on scenic tours around Huckleberry Island. While we no longer make grocery deliveries, we still slow down to admire the charming summer retreats that have attracted generations of families to this picturesque part of Georgian Bay. Join us for a journey that showcases the enchanting allure of the 30,000 Islands.
Other Attractions
Sainte Marie Among the Hurons – Midland
Throughout July and August, Sainte-Marie among the Hurons offers fun and informative demonstrations and hands-on activities that share aspects of life in the 17th century. These include 17th century fire-starting, historic clothing and medicine, native games, 17th century music, historic cooking, and more. Additional activities for children features quill pen writing.
Discovery Harbour – Penetanguishene
Discovery Harbour offers special summer activities and demonstrations in July and August. Visitors learn what it was like to be a sailor, officer, or artisan living and working at the original naval and military base. Daily program features include: 19th century cooking, sailor's rope work, quill pen writing, boat repair dockyard demonstrations, and historic games. Explore the full-scale replica ships H.M.S. Bee and H.M.S. Tecumseth, and try your hand at swabbing the deck or holding the helm. Both vessels are stationed at the King's Wharf throughout the season.
Wye Marsh Wildlife Centre – Midland
The Wye Marsh Nature Centre is located on 3,000 acres of provincially significant wetlands and federally designated forest in Midland, Ontario (in the Heart of Georgian Bay). Visitors of all ages and abilities are encouraged to discover raptors & reptiles in our interpretive display hall, explore our hiking, biking, cross country ski & snowshoeing trails, experience canoeing & kayaking on a guided tour through the marsh channels, visit the observation tower, floating boardwalks, waterfowl monitoring platform, wildflower gardens, the bee house and so much more.
Leacock Museum – Orillia
Stephen Leacock, Canada's beloved humourist spent his most creative time in what he coined as Lake Simcoe Country. The success of his Elements of Political Science and his first satirical books Literary Lapses, Sunshine Sketches of a Little Town and Arcadian Adventures of the Idle Rich allowed him to move from his family's summer house at Sibbald Point, Lake Simcoe and over time develop his own lakeside retreat at Old Brewery Bay, where Lake Simcoe and Lake Couchiching join. Here in 1928 he built Leacock House designed by Wright & Noxon, Toronto.  The scale and ambience of the plans reflected Leacock's success and prestige as a world renowned author and a celebrated academic.
Martyrs Shrine – Midland
Martyrs' Shrine is a subsidiary of the Jesuits in English Canada. The Society of Jesus (Jesuits) is a religious order withing the Roman Catholic Church. Martyrs' Shrine is a registered charity #107673733 RR0001. The Canadian Martyrs' Shrine invigorates pilgrims through the story of the Martyrs and their companions, who lived the mission of Jesus Christ.
Big Chute Marine Railway – Trent Severn Waterway
North America's only marine railway portages boats in a 100-ton open-carriage. Watch from the observation deck as skilled staff scramble up and down ladders to operate the slings and carriage that lift boats almost 18 m (60 ft) over a ridge between the Severn River and Gloucester Pool on Georgian Bay, then slips them gently back into the water on the other side. Stay to barbecue, picnic or swap tales from the road.
Port Severn Lock 45 – Trent Severn Waterway
Lock 45 is the last lock on the Trent-Severn Waterway before merging with the Georgian Bay. The Trent-Severn Waterway is a national historic site and one of the world's great achievements.  Stretching 386 KM from Trenton on Lake Ontario to Port Severn on Georgian Bay the waterway connects dozens of inland lakes and rivers into a scenic wonderland unparalleled anywhere.  The system required 45 locks to allow boats to navigate the 597′ of elevation changes along the waterway.
Georgian Bay Islands National Park
Georgian Bay Islands National Park is located 166 kilometres from Toronto, Ontario. Visit both the north and south of Beausoleil Island via DayTripper ferry, or private watercraft, from Honey Harbour. The park is boat-access only; DayTripper reservations are required.
Boat Cruises
RMS Segwun Boat Cruise – Gravenhurst (Lake Muskoka)
Muskoka's steamship heritage is older than Canada. The first ship steamed Lake Muskoka in 1866.  In 2017, we mark the amazing RMS Segwun's, 130 year history. She is North America's oldest operating mail steamship. Wenonah II, a modern interpretation of a traditional steamship, is named in honour of Wenonah, the first steamship to sail Lake Muskoka. We look forward to welcoming you aboard in 2017. Before or after sailing, visit the Discovery Centre. Discounted admission is available with the purchase of a steamship cruise ticket in 2018.
Miss Midland – Penetanguishene (Georgian Bay)
Take a sightseeing cruise aboard the 300-passenger Miss Midland & experience the sparkling water, the windswept pines & rocky grandeur of Muskoka-Georgian Bay's 30,000 Islands – the finest cruising area in the northern hemisphere.
Walking Trails
Severn Lodge Hiking Trails – Onsite
100 acres of pristine wooded hiking trails
The School House Trail – Port Severn (20 minute drive)
The trail winds its way through the wilderness of the Georgian Bay landscape. The trail surface is crushed screenings and there is a water crossing boardwalk halfway down the trail that traverses a significant water course. There are many species native to the area that can be seen while spending time on the trail. The former Point aux Pins School House location is a focal point of this trail. Signage is in place at the site that describes the history of the school. The trail also extends parallel along Honey Harbour Rd. and provides access to the Baxter Ward Community Centre.
The Living Edge Trail – Six Mile Lake Provincial Park (10 minute drive)
Catch a glimpse of beaver lodges in wetland areas, walk the rocky outcrops of the Canadian Shield and keep your eyes open for the wide variety of species that live in the forest!
The Tay Shore Trail – Tay Township (25 minute drive)
Gifted to Tay Township in 2004 by the Trans Canada Trail Foundation, construction on the Tay Shore Trail was completed in 2007. The completed multi-use paved trail stretches 18.5 km through the Township and is registered as part of the Trans Canada Trail.  From the Wye River to Waubaushene and into Port McNicoll along the Trestle Trail, users can enjoy the nature setting of the trail which is enhanced by informative plaques outlining the natural and historical aspects of our municipality.
Georgian Bay Islands National Park – Beausoleil Island/Honey Harbour (15 minute drive)
All park trails are found on Beausoleil Island. The Park offers many hiking trails ranging from short easy strolls to more demanding hikes. All trails allow visitors to enjoy the scenic beauty of the park and provide opportunities to view park wildlife.  Transportation provided via the Daytripper.

Aerial Sight Seeing
Georgian Bay Airways – Parry Sound
Operating from May to October out of Parry Sound's downtown waterfront, in the heart of the 30,000 Islands. The bountiful vistas of Georgian Bay's rugged coastline awaits you. From gentle take-off to smooth touchdown, relax and enjoy the ride as you cruise over historic sights and pristine wilderness. The water is blue and the islands are gorgeous, so please bring your camera!
Flight Helicopter Tours Muskoka – Gravenhurst
The view from up here is something that time and time again our guests are amazed with. Even if you know the area well, you will be amazed to see the beauty and lake dotted granite landscape from the air. It will connect you with Muskoka and give you a whole new appreciation for this incredible place, beyond your expectations. Let's be honest too. Helicopters are just cool and we love to share the thrill with our guests, so come have some fun with us!
Live Theatre
Kings Warf Theatre – Penetanguishene
Nestled within Discovery Harbour on Georgian Bay, the King's Wharf Theatre is a pleasantly rustic, 364-seat venue that offers all the comforts of a modern facility.  Flanked by the historic buildings of a 19th-century British naval and military base, the theatre is located at the end of a beautiful boardwalk that looks on to the homeport of replica ships H.M.S. Bee and H.M.S. Tecumseth.
Sunshine Festival – Orillia
We're offering four shows instead of three and a number of new day trips to please every taste and pocket book. We've also developed two new overnight packages, featuring The Island Princess in Orillia and the Lady Muskoka in Bracebridge.
Opera House – Gravenhurst
Gravenhurst's Opera House, which dates to 1901, sits on the former site of the first Central Public School. The Central Public School was a two storey frame building which was destroyed in the Great Fire of 1887, leaving an empty lot. A second fire destroyed the then Town Hall and, ironically, Fire Station in 1897. Council decided to construct a replacement Town Hall combined with an Opera House on Muskoka Road, where the building still stands. The doors to the Gravenhurst Opera House officially opened on March 12th, 1901. In the 100 years ensuing, the pricey indulgence has conservatively witnessed over 6 million patrons crossing its threshold; that is more people than the entire population of Canada in 1901.
Georgian Theatre – Barrie
A professional arts facility with seating from 427 to 690 people. The theatre hosts a variety of professional and amateur theatre productions, concerts, dance, and more.
Golf
Bonaire Golf & Country Club – Coldwater
Bonaire Golf Course offers 18 holes of well manicured golfscape and true playable greens. Though it's only 25 minutes north of Barrie, golfing at Bonaire feels like playing in a protected park. Bonaire is renowned for its quality greens and interesting layouts that create a challenge of all levels of golf. Enjoy the beautiful view from the Clubhouse and Patio; overlooking five tees and four greens.
The Rock – Minett
The Rock is a world class facility. The Rock Golf Club, designed by legendary golfer Nick Faldo, has been artfully sculpted on the shores of one of Muskoka's premier lakes, Lake Rosseau. Utilizing the site's dynamic topography, the 6649-yard course is carved tight with narrow tree-lined fairways and sloping greens that wind through rock outcroppings, hardwood trees and rolling hills.
Hawk Ridge Golf & Country Club – Orillia
Hawk Ridge Golf & Country Club opened in 1991 and has grown from an 18 Hole Championship Course to 45 magnificent holes with now 2 – 18 Hole regulation championship courses and an Executive Par 3. Situated on over 390 acres of abundant ponds, mature forests, bentgrass fairways and a lifestyle community that is second to none. Hawk Ridge offers seasonal membership, public players, tournaments & boasts a magnificent clubhouse with seating for up to 300 that will make any event unforgettable. Make Hawk Ridge your home!
Oak Bay Golf & Country Club – Port Severn
Picturesque and majestic, Oak Bay is where rocky outcroppings meet heroic tee shots. Located just minutes off the 400 Highway, and a half hour north of Barrie, Oak Bay is an incredible escape that is still easily accessible. With a clubhouse that's beautiful, and renowned food that lures events and patrons from miles away, Oak Bay is a public golfing adventure that captures the best of Georgian Bay. That's Oak Bay—truly unforgettable.
Las Vegas Casino Gambling
Casino Rama – Orillia
Celebrating 20 successful years, Casino Rama Resort is a complete entertainment destination and Ontario's only First Nations Resort casino. Located on Rama First Nation, a progressive community rich in history, the property was built and designed to pay homage to the culture and proud heritage of Rama First Nation. Casino Rama Resort has earned a reputation as being 'the premier entertainment destination' in the province where some of the biggest live acts in the world have graced the stage – The Tragically Hip, Jerry Seinfeld, Jason Derulo, Carrie Underwood and Don Henley just to name a few, as well as production shows such as Dancing with the Stars and world-class sporting events like boxing and MMA.
Pets
In order to guarantee our guests a comfortable, safe, and allergy-free environment, Severn Lodge respectfully declines the presence of pets, with the exception of service animals, which are always welcome.