[fusion_builder_container hundred_percent="yes" overflow="visible"][fusion_builder_row][fusion_builder_column type="1_1″ background_position="left top" background_color="" border_size="" border_color="" border_style="solid" spacing="yes" background_image="" background_repeat="no-repeat" padding="" margin_top="0px" margin_bottom="0px" class="" id="" animation_type="" animation_speed="0.3″ animation_direction="left" hide_on_mobile="no" center_content="no" min_height="none"][fusion_widget_area name="avada-custom-sidebar-mobilecalltoactions" background_color="" padding="" class="" id="mobile-contact"][/fusion_widget_area]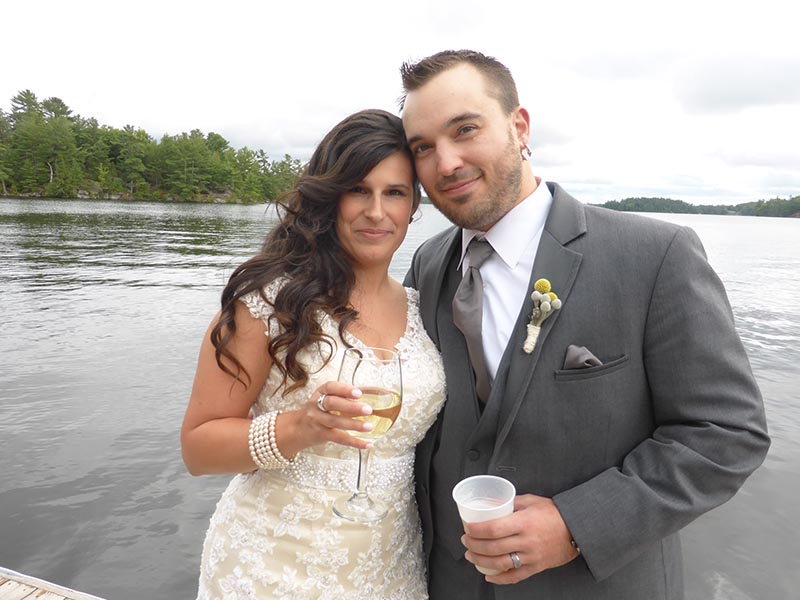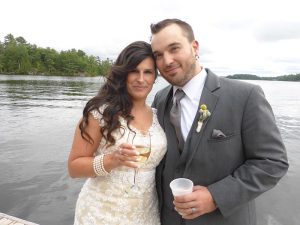 Congratulations to Stephanie and Jordan. They had an idyllic Muskoka resort wedding at Severn Lodge this past weekend with all of their friends and family joining them.
The weather cooperated at the last minute with some beautiful sunshine. The fall leaves presented themselves in an array of colour with the sun glistening on the lake.
Tina and her bridesmaids arrived at our main dock in our 1922 Ditchburn, a vintage 37' mahogany motor launch, and then proceeded down the dock to where the groom, guests, and family were seated.
The ceremony lasted about ½ hour, followed by a lovely pool side reception, dinner, and a fun-filled evening of dance.  They enjoyed the privacy of the entire resort for the weekend which made it even more romantic.
[/fusion_builder_column][/fusion_builder_row][/fusion_builder_container]