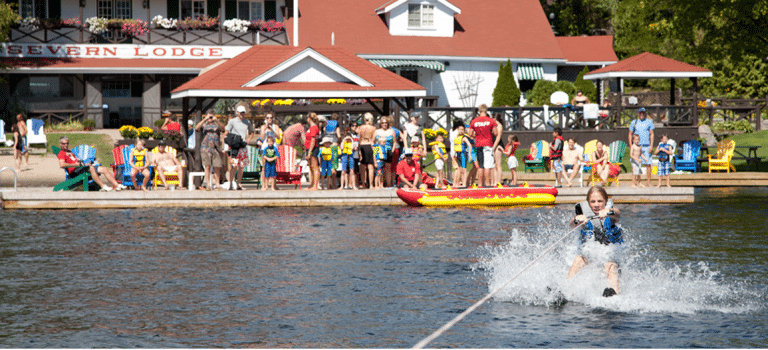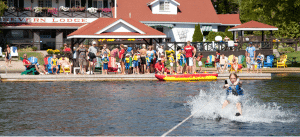 When was the last time you took the family on a summer vacation?  Has it been a while?  End that streak at Severn Lodge!  Our family resort in Ontario is the perfect destination for your summer getaway. With fantastic Muskoka views and all-inclusive packages, we have everything your family could need. To make sure you are ready for your getaway we have a couple of tips to make your trip easy, so all you have to do is pack a bag and we'll see you at check-in!
Whether you are seeking a romantic getaway for two or fun for the whole clan, plan your next Ontario family vacation at Severn Lodge. Our all-inclusive resort features Lakeview accommodations, delicious meals, and a variety of recreational opportunities. During the summer, we have a daily recreation schedule, a supervised children's program and evening entertainment for all. There is never a dull moment at our family resort in Muskoka.
Severn Lodge features a wide variety of fun activities, with something for everyone. With amenities available from morning until night, you can decide how busy you would like to be. Whether you want to fish, water ski, mountain bike, play tennis, take a seaplane tour, or just relax on the beach, a great Muskoka vacation awaits you at Severn Lodge.
With a ton of amenities and meal packages, all you truly have to bring are your clothes, but there are a couple of necessities that can come in handy. If you want to spend your days by the water pack a swimsuit that can handle all water sports and a beach towel to dry off. Sunscreen, sunglasses, and a hat are helpful when laying in the sun. Water shoes and any floaties that are needed for children (we have lifejackets available). Closed toed shoes are a good idea if you want to play some tennis, go mountain biking, or go for a hike. For the ever changing weather, you might want to have a raincoat and umbrella on-hand just in case Mother Nature decides to give us some "liquid sunshine".  But not to worry if she does because you can spend the day in our Games Room, Library, Regatta Room, and so much more. Last but not least, a camera. You and your family will be creating lifelong memories at Severn Lodge. You will want to try and capture all of it for posterity!
Severn Lodge has been creating family memories for over 150 years. With breathtaking views, a ton of activities, and room for the whole family, why not call us today and join in on the fun at our family resort in Ontario. For more information or to book your vacation today call at 800-461-5817.