[fusion_builder_container hundred_percent="yes" overflow="visible"][fusion_builder_row][fusion_builder_column type="1_1″ background_position="left top" background_color="" border_size="" border_color="" border_style="solid" spacing="yes" background_image="" background_repeat="no-repeat" padding="" margin_top="0px" margin_bottom="0px" class="" id="" animation_type="" animation_speed="0.3″ animation_direction="left" hide_on_mobile="no" center_content="no" min_height="none"][fusion_widget_area name="avada-custom-sidebar-mobilecalltoactions" background_color="" padding="" class="" id="mobile-contact"][/fusion_widget_area]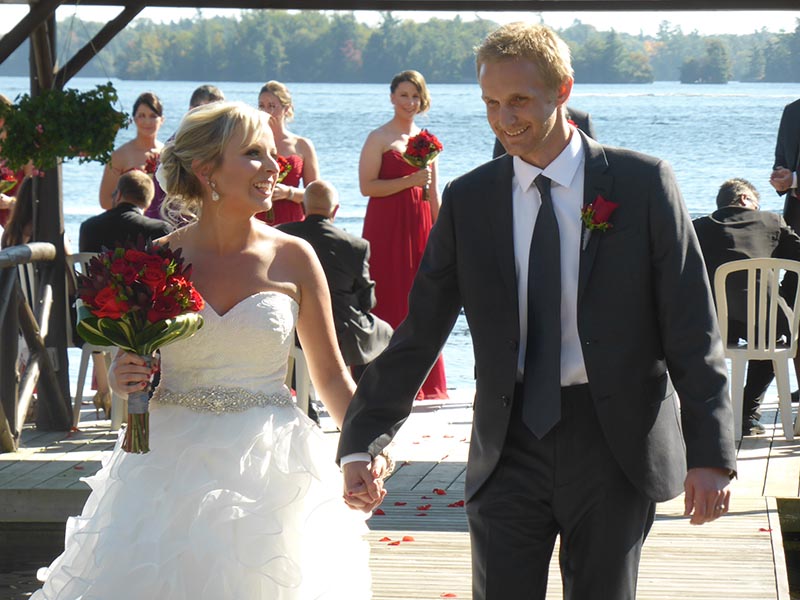 Summer is slowly coming to an end here at Severn Lodge and the leaves are already starting to change colours.  While summer is one of the busiest times of the year for us, it's nice to notice when things slow down. Fall brings cooler weather and beautiful Fall scenery – making Severn Lodge the perfect place to have an intimate, romantic wedding.
To some, the Muskoka area is known as the Canadian Hamptons for its' lavish lakeside cottages that dot the shoreline of its numerous lakes.  In 2011, Muskoka was rated as the top summer destination in the world by National Geographic.  It has consistently been near the top of the list ever since.
Nestled along the picturesque shores of Gloucester Pool, Severn Lodge offers a very magical setting for a romantic Ontario resort wedding. Our spectacular views and unique location, coupled with the privacy of having the entire resort dedicated only to your wedding, will provide you and your guests with a unique experience. Everyone will be in awe of your choice of venue for this special day.
In addition to attending the wedding, your guests will also be able to enjoy a fun-filled weekend by choosing a one or two-night resort getaway package complete with waterfront accommodations, a delicious country fresh breakfast each morning, use of resort recreation amenities and baggage handling.
Severn Lodge is deeply rooted in Muskoka history, which has become one of the top  wedding destinations in the world.  We have you covered for the perfect Fall wedding!  We even provide a
n event coordinator to help with all of your wedding needs.
For a grand entry, your bridal party can arrive at our main dock for the wedding ceremony, in our classic 37' Ditchburn mahogany motor launch.  This vintage craft was originally built in 1922 for Lady Eaton, wife of Sir Timothy Eaton and founder of the Eaton department stores.

It's the perfect time of year!  The 2000 feet of tree-lined shores will soon be vibrant shades of yellows, oranges, and reds. The leaves of the trees will collect on the ground as the blue shade of the water compliments the topography. A white dress will truly stand out among the warm colors of the natural landscape.
No matter the style of your wedding, Severn Lodge is the best Muskoka wedding venue. Make Severn Lodge your wedding destination, whether it's for your own wedding or for someone you know. Below we've listed some Fall wedding ideas and hope to see you at Severn Lodge for a seasonal event.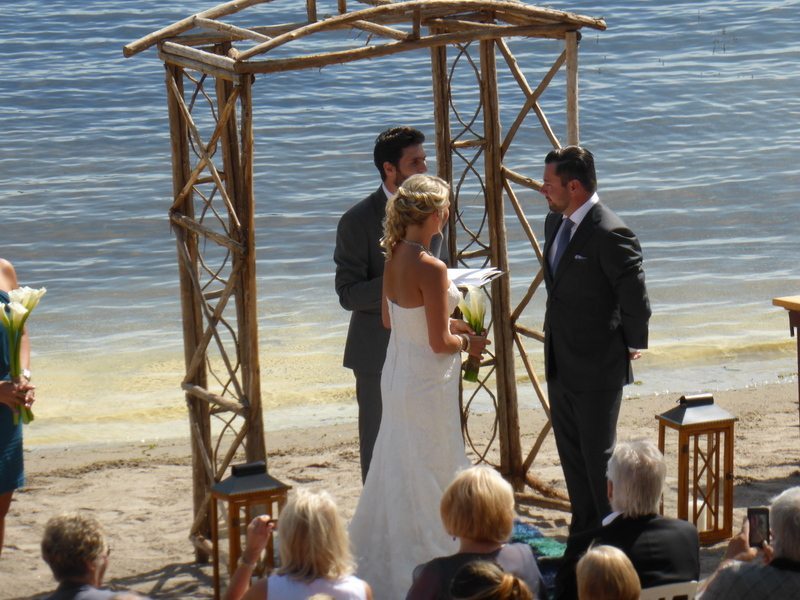 Vintage: Muted colors are best for a vintage fall wedding. Think about Mauve pinks, sage greens, soft blues, and creams. Instead of a floral bouquet, find vintage brooches and combine them into a bouquet for a fun alternative route.  
Rustic: A rustic wedding wouldn't be complete without a flurry of soft nude colors like taupe and grays, along with softer browns. Add a pop of green to bring out the softer tones. Add some natural aspects to the wedding like wooden centerpieces or pine cone place cards.
Seasonal: Colors that work well for a Seasonal wedding are cranberry red, oranges, and ivory. Line the pathway to the altar with pumpkins and baskets of apples. It's also a fun time to serve apple cider to your guests and pumpkin pie as dessert.
Luxury: For a luxurious wedding pick jewel toned colors, deep purples, reds, and blues will have a striking effect against the warm colors of nature. Match those colors with metallics like silver, copper, and gold. Try geometric, metal placeholders and a geode style cake to bring in trending items.
Enjoy these last few days of summer as we head into Fall!
Severn Lodge hosts weddings in May, June, September and October each year.[/fusion_builder_column][/fusion_builder_row][/fusion_builder_container]