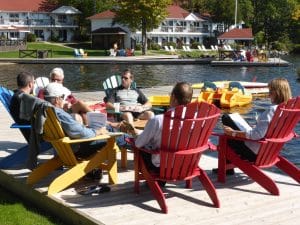 Every employer wants to have a top-notch team with all of the tools that they need to succeed. With each year, new obstacles and challenges will surface, and here at Severn Lodge, we want to help you prepare your team so that they can overcome all of those potential roadblocks as one well-oiled machine. Book an unforgettable corporate retreat with Severn Lodge, one of the best Canadian Resorts in the Georgian Bay area, and build your team's skill set for your best year of business yet!
The Perfect Space For Any Occasion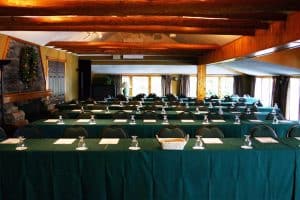 Whether you are looking to hold a conference, training session, or an executive retreat, Severn Lodge has the perfect facilities to fit all of your needs. We have several unique conference rooms that offer different features so that you can find the best fit for your group size, atmosphere, and other necessities. We also have an on-site conference planner that can assist with any visual aids, sound systems, schedule building, recreational team building, and more. We can help you choose the best packages so that you and your attendees have all of the essential services needed to fit your specific requirements.
An Unbeatable Atmosphere
Many corporate events are held in large, inner-city hotels where there is not much relaxation involved. Even the most fun-loving group can find themselves feeling the usual chaos of their regular 9-5 lifestyle; creating a stressful environment that makes being fully engaged in the event challenging. When you book your corporate event at one of the best Canadian Resorts in Muskoka Ontario, you will discover the difference that it makes to host your team in a relaxing and fun environment. With the lakeside views, various activities, and laid back atmosphere, your team will be able to clear their minds and enjoy a productive getaway.
Get Your Team Ready For Success!
When it comes to Canadian resorts, we have an advantage over typical large city hotels, because of the myriad of available activities paired with the surrounding lake life. You can get down to business for most of the day, and look forward to lakeside fun in spare time and throughout the evening. Severn Lodge has everything that your team will need for an incredible event that they will never forget. Severn Lodge has also been recognized by Canadian Special Events magazine for their outstanding corporate event facilities! We had the honor to be featured in their magazine highlighting what we all have come to know and love about our beautiful lodge! It's easy to see why so many employers choose Severn Lodge for their businesses, so come and discover just why they can't get enough with your own incredible team!