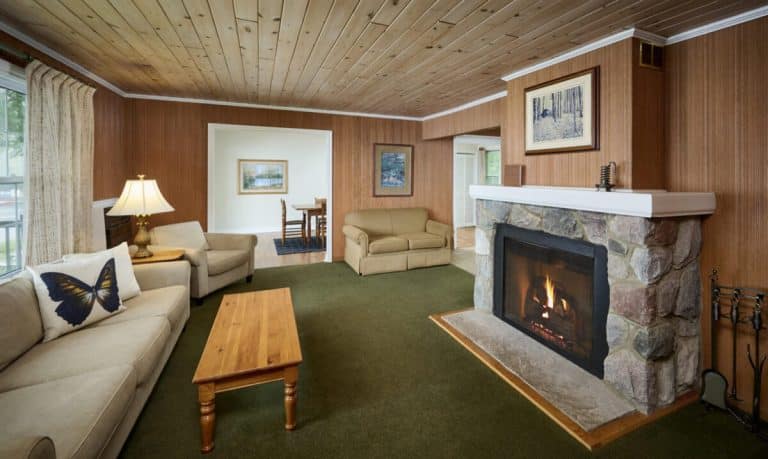 As much as we adore the summer months, there's something to be said about autumn on Gloucester Pool. Whether it's the crisp air blowing off the lake, the changing foliage, or the chance to wear hoodies during the day, it's understandable why so many people love fall. With a trio of classic Muskoka cottages at Severn Lodge, our neck of the woods offers an ideal destination for friends and family to enjoy some of the best weather of the year before winter's arrival.
Muskoka Cottage Rentals for Friends and Families
Whether you're on a family vacation or a long-awaited friends' retreat, our Muskoka cottages are excellent options for a fall getaway. Our seasonal all-inclusive vacation packages ensure you can get the most out of your time without worrying about surprise expenses. What's more, we have an assortment of activities that promise to keep kids and their parents entertained. So, without further ado, here is a summary of each lake-view cottage.
Lakeview Villa
Lakeview Villa, a newly renovated 4-bedroom cottage on our main property, offers the perfect blend of comfort and luxury for your getaway. The villa features a lower-level bedroom with a king bed, private deck access, and an en-suite bathroom boasting a stand-up shower. Upstairs, a king-bed bedroom boasts a private Lakeview balcony and a lavish en-suite bathroom with a spacious tub and separate shower. 
Two main-level bedrooms accommodate your needs, each equipped with a bunk bed (one with a double-size bottom bunk). A main-level bathroom with a stand-up shower provides convenience. Enjoy the benefits of a spacious kitchen with full-size appliances, a microwave, and a coffee maker with all necessary cooking and eating utensils. The living area invites relaxation with a sectional couch and satellite TV, while the private Lakeview deck offers picturesque vistas. 
Modern amenities include central heat/air conditioning, wireless internet, and a laundry area with a washer and dryer. Your experience is complete with a private driveway, and Lakeview Villa is exclusively rented with our all-inclusive meal package, ensuring a truly remarkable and hassle-free retreat.
Homestead Cottage
Discover Homestead Cottage, a charming 3-bedroom retreat that welcomes you with comfort and convenience. Unwind in two bedrooms, each featuring a queen bed, while a third bedroom offers single bunk beds for added flexibility. Embrace lakeside living in the cozy room with a wood-burning stone fireplace. The bathroom comes with deluxe bath amenities and a hair dryer. Individual heat/air ensures your comfort, while an AM/FM clock radio adds a touch of convenience. 
A well-appointed kitchen boasts full-sized appliances, a microwave, and a coffee maker, complete with cooking and eating utensils. Step into the dining room with a lakeside sitting area and a single hide-a-bed couch. Modern amenities include color satellite TV, wireless internet, and telephone access. 
Take advantage of the lakeside deck with an eating table, providing a tranquil spot to enjoy the surroundings. Homestead Cottage invites you to relax, rejuvenate, and savor your stay with a blend of comfort and functionality.
Westview Cottage
Welcome to Westview Cottage, a serene 3-bedroom log retreat nestled in a peaceful sheltered bay just east of the main lodge property, conveniently reachable by a short 1-minute walk. Tucked away in a tranquil corner, Westview Cottage offers the utmost relaxation and comfort. The well-designed layout includes a king bed, a queen bed, and a spacious loft with two single beds. 
The lakeside living area beckons with a double hide-a-bed couch and a cozy gas fireplace. Enjoy the convenience of a bathroom with a whirlpool tub, separate shower, deluxe bath amenities, and a hair dryer. The kitchen is fully equipped with full-sized appliances, a microwave, and a coffee maker, complete with cooking and eating utensils and an outdoor propane barbecue. 
Individual heat/air and an AM/FM clock radio ensure a pleasant stay, while modern features like color satellite TV and wireless internet keep you connected. Embrace the serenity of the outdoors on the lakeside covered porch, where an eating table offers a tranquil spot to savor your surroundings. Westview Cottage invites you to experience a delightful blend of comfort and natural beauty, creating cherished memories of your stay.
Muskoka Family Resorts near Port Severn, ON
Now that you know what to expect from our Muskoka cottages collection, take a look at the resort layout and find the one that's best for you and your crew. We're always running special offers at Severn Lodge, so be sure to check those out as well! To find out more or to book your stay, please visit us online or call 800-461-5817 today.