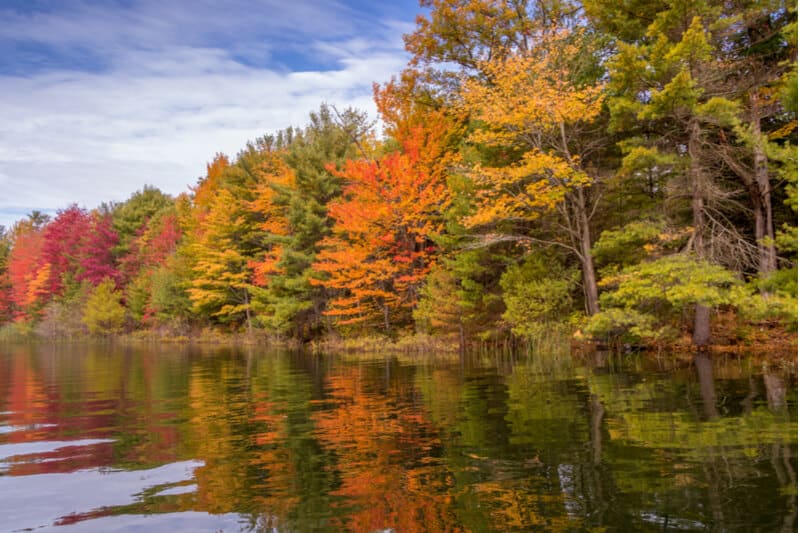 Although we are firmly within the dog days of summer, autumn is just around the bend and quickly approaching. Within a matter of weeks, the green-covered canvas of Muskoka will make way for rust-coloured hues of amber and orange, just in time for leaf peepers everywhere. As cooler temperatures become more commonplace, morning fog will linger into the afternoon, and you may find a bit of frost within the forest shadows before sunrise. Embedded within the heart of this autumn splendour, residing on the beautiful shores of Gloucester Pool, Severn Lodge, Muskoka's premier all-inclusive family resort, is the perfect place for a fall getaway in Ontario. 
Things to Do in Muskoka | Take in the Fall Colours
Arguably the most spectacular elemental features found in Muskoka during autumn are the vibrant and captivating fall colours. After all, our neck of the woods is known for its natural beauty, rife with colourful woodlands and shimmering lakes and rivers. Thankfully, the most prominent way to immerse yourself in the scenic grandeur of the Georgian Bay and Muskoka lake area is to hop in the car and go for a drive! 
One of the most awe-inspiring fall colour corridors is close to Severn Lodge and brings you along on a whimsical tour of Big Chute, Port Severn, and of course, the illustrious Georgian Bay. With miles of seemingly endless coastline amid ruggedly elegant landscapes dotted with quaint towns and unique villages, you'll fall in love with this picturesque playground. Pay a visit to the locally-owned shops, boutiques, and eateries or move incognito while filling your camera with a bevy of gorgeous photos. No matter your choice, you'll find the makings of a quintessential Ontario fall getaway in the heart of cottage country.
Local Events and Other Things to Do in Muskoka in Fall
Fall festivals are a big draw for Muskoka's autumn visitors. One of the most popular events is hosted by Johnston's Cranberry Marsh in nearby Bala. The Bala Cranberry Festival is a fun-filled culmination of cranberry treats, juices, and artisanal creations. With a stunning collection of activities, vendors, and local musicians, the Bala Cranberry Festival is a fantastic addition to your Ontario fall getaway plans!
Port Severn Cottage Rentals at the Best Muskoka Family Resort
Families choose Severn Lodge for a few different reasons, but perhaps the most prevalent is the chance to connect with nature and each other amid a peaceful setting. Fall getaways in Ontario can be an exciting adventure, but don't take our word for it! Our season's end is rapidly on its way, but there is still time to enjoy fall before we close for the year! Be sure to check out our late-summer and fall packages to find your perfect retreat. For more information or to book your autumn escape, reach out to us online or call 800-461-5817.