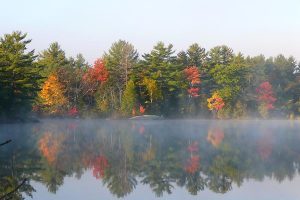 Muskoka has been recognized as one of the best places to view fall colors in Canada! Fall foliage usually last for a month, splitting the time between September and October. Early September is much like summer with its warm weather, but later in the month and into October, the foliage is vibrant and full of bright yellows, oranges, and reds and the air has a crispness to it.
Take a scenic hike through the colorful Muskoka forests or try one of our recommended tours to experience the ever-changing scenery. See for yourself why our Muskoka Resort is the perfect fall getaway! With so much to see and do, we have combined our favorite spots and attractions for you to get out and experience fall in Muskoka.
Georgian Bay Island National Park is situated on the world's largest freshwater archipelago. Georgian Bay is fascinating because of the changing colors of the leaves mixed with the famous pine trees of Georgian Bay. Go for a hike and submerge yourself in the colorful leaves and get up close to the amazing fall colors.
Get another perspective of the changing leaves from above. Georgian Bay Airways will take you on a ride, flying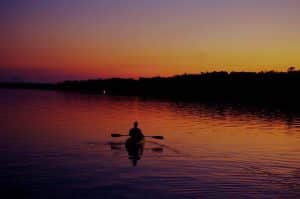 over the beautiful fall landscapes of Parry Sound and Muskoka, as well as the coastline of Georgian Bay's 30,000 islands. The amount of water will leave you in awe, but the colorful landscape will take your breath away.
The perfect time to see the color of the leaves is as the sun is rising. Canoe our quiet, sheltered coves and watch as the mist slowly clears away, and the beautiful fall colors appear. The sun shining through the leaves gives the appearance of fire brushing across the vibrant foliage.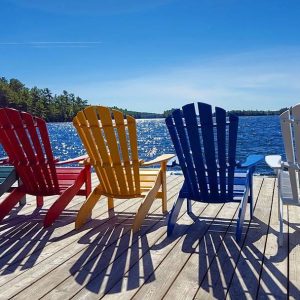 Last but not least view the surrounding colors from the comfort of iconic and colorful Adirondack chairs. Surround yourself with the beautiful lakes, scenic stone outcroppings, and pristine wilderness our Muskoka resort provides.
At Severn Lodge, we want to make sure that you and your family have the best fall vacation. That is why we offer a ton of fun amenities at our Muskoka resort. Spend the day out on the lake or hiking our 100 acres of pristine wooded hiking trails! After a day in the crisp fall air, warm up in your room or suite with a fireplace and jacuzzi tub. Come up for an extended stay and find a fall package that suits you.