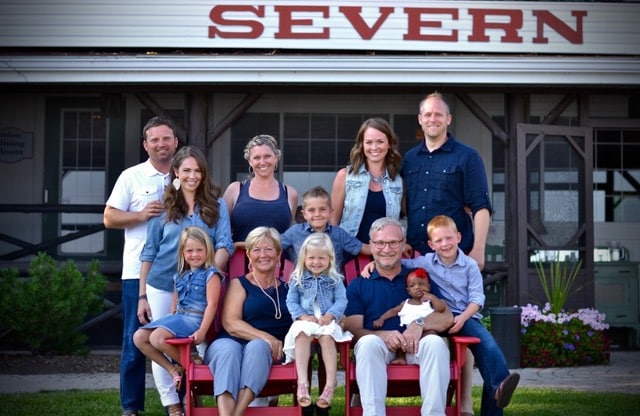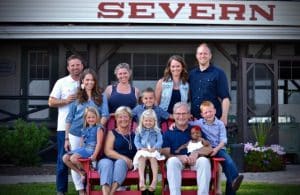 As we approach yet another festive holiday season, thousands of families across North America will begin planning that long-awaited summer family reunion. If you've ever planned a family reunion, you know that it can take months of researching possible destinations, cooperating with relatives, and meticulous planning. But lucky for you and your family, a one-of-a-kind, all-inclusive lakeside haven in peaceful Muskoka, Ontario lake country awaits: Severn Lodge. Our beautiful resort has been one of the most desired family reunion locales in Southern Ontario for several decades. The Breckbill family and their steadfast staff have been co-planning family reunions in Ontario since the early 1930s. Not only does our team of friendly, highly-trained individuals have decades of experience, but we've practically erased all potential stress by providing affordable, all-inclusive packages. Each package includes (besides discounted rates) countless on-site activities, three meals daily, and an extended stay in a charming, lake view accommodation.
Stress-Free Family Reunions in Ontario
There are dozens of reasons to choose Severn Lodge for your upcoming family reunion, including the allure of an-inclusive get-together. Imagine a gathering where no time is spent cooking or cleaning! We remain one of the only family reunion venues in Ontario to provide stress-free dining, accommodations and entertainment. Leave the planning to our team—the only thing you'll have to worry about is which group-friendly activities appeal to the masses as well as sleeping arrangements. For those that have never stayed with us before, your family members will appreciate the privilege of staying inside some of the most comfortable lake view accommodations and family reunion cottage rentals in Ontario. We have space for everyone along the tranquil shores of Gloucester Pool  inside our three-bedroom cottages, two-bedroom suites, and classic guest rooms. No two stays are alike, as all rooms provide different features and modern amenities while maintaining the classic Muskoka charm that Severn Lodge has become known for.
Splash, Relax, and Explore: The Top 10 On-Site Activities
If you've ever taken a glance at our activities page, you already know that we facilitate over two dozen daily activities, many of which are enjoyed in the great outdoors. Whether you'd prefer to take a leisurely boat ride aboard our 37′ 1922 Ditchburn motor launch, explore the property's 100 acres of beautiful wooded trails, or relax with your toes in the sand, your family is guaranteed to have the time of their lives next summer at Severn Lodge. To ensure that your family arrives primed for a genuinely unforgettable experience, we've pieced together ten of the most popular reunion activities based on guest feedback.
Gloucester Pool fishing derby

100 acres of spectacular hiking trails!

Paddling trip for all-ages (using our free canoe, kayak, and SUP rentals)

Family volleyball tournament

Beach day

Water skiing, wake boarding & banana boating!

Summertime live entertainment in the

Regatta Room

Share stories under the stars around a campfire with delicious s'mores!
7 Tips and Tricks to a Family Reunion
Every year, hundreds of family reunions in Ontario don't quite reach their potential because of communication failures, financial concerns, and unimaginative event planning. Severn Lodge remains one of the only Muskoka resorts that listens to the needs of a family and develops a surefire itinerary while also remaining flexible. And you won't find a more visually appealing family reunion accommodation in Ontario during your travels.
Create a Facebook event, ensuring complete transparency about numbers, dates, times, and last-minute changes.

Plan during the holidays being that you already have several family members in one place.

Go with the experts. Severn Lodge is proud to offer generations of reunion expertise!

Do your research. It's important to know which activities, amenities, and

nearby attractions

appeal to the masses.

Let us do the heavy lifting. Co-planning with our experts will be a breeze.

Enjoy the outdoors. Nothing simultaneously fosters fun, excitement, and relaxation quite like Mother Nature.

Don't be afraid to ask questions—we're here to help.
To learn more about some of the most historic family reunion cottage rentals in Ontario, please give us a call today at 800-461-5817. We have a feeling that Severn Lodge is precisely what your family has been searching for all of these years!