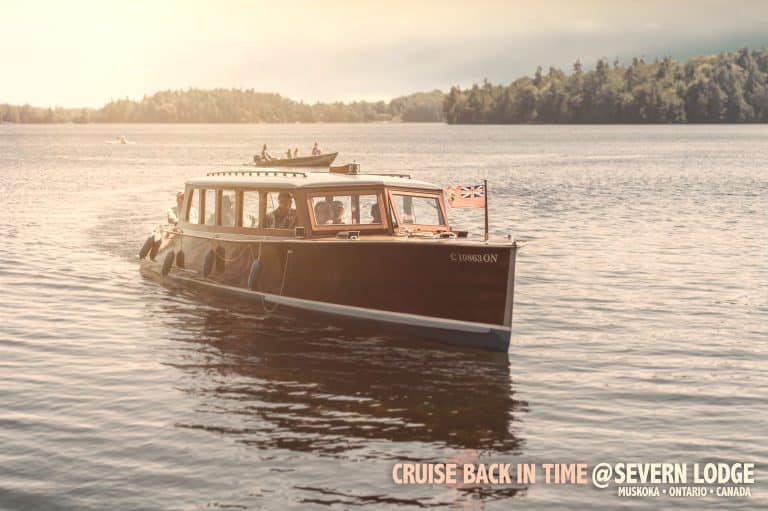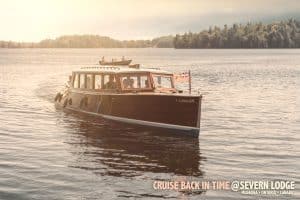 Whether you're in the midst of planning a last-minute fall getaway or starting to piece together next year's long-awaited family reunion, you won't discover a more alluring lakefront destination than Severn Lodge. Families from the Greater Toronto Area have been flocking to our beautiful, historic Georgian Bay resort for over 100 years in search of an extended escape from busy streets, stressful workplaces, and hectic daily routines. Our particularly serene slice of Muskoka is a splendid, family-friendly haven for those who appreciate adventure, exploration, and relaxation. While you'll never have to leave Severn Lodge to enjoy an authentic, genuinely unforgettable Ontario vacation, many groups choose to branch out to nearby communities to hop aboard one of the top-rated Muskoka boat tours. We cannot blame you if a 90-minute boat cruise along a scenic waterway sounds enticing.
Scenic Muskoka Boat Tours 
Narrowing down the top five Muskoka boat tours wasn't easy as there are several options to choose from, but this shortlist gives travellers a proper "taste" of what's available near our tranquil lakeside locale. These five Muskoka boat cruises are all within an hour of Port Severn, Ontario—the perfect opportunity for a scenic backcountry or lake drive with the kids.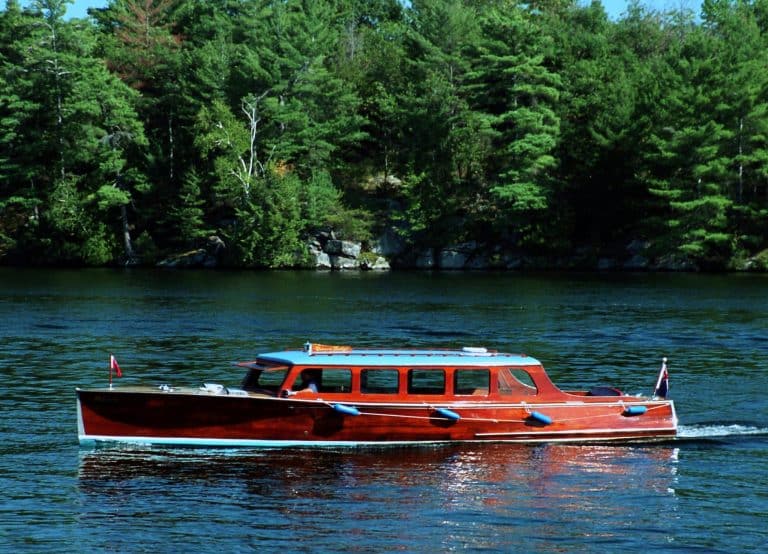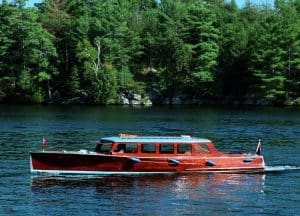 Before their arrival, most guests don't realize that Severn Lodge owns a classic 1937 Ditchburn motor launch named the "Sevlo." Sevlo has a long, fascinating history as it's been in the Breckbill family for nearly 80 years. In fact, the Buchannan V8 engine that was installed in 1968 still powers the meticulously-preserved Sevlo. Lucky travellers can take a ride in this beautiful, scarlet vessel on Tuesday, Thursday, and Saturday during the summer months. You'll often spot Rick Breckbill (as seen in the photo on the right) and a handful of guests lazily cruising through Gloucester Pool on a warm summer afternoon. Please ask a member of our friendly staff upon arrival about a potential mid-day cruise on the Sevlo.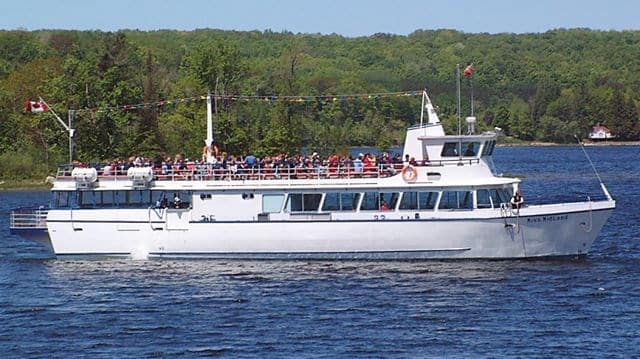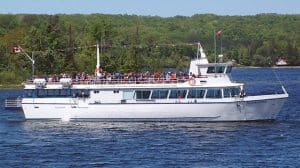 Location: 177 King Street, Midland, ON
Distance from Severn Lodge: 41 kilometres
Price range: $17-63
Description: Not only is Miss Midland just a short yet picturesque 34-minute drive from Severn Lodge, but she hosts one of the grandest dinner cruises in Ontario. For as low as $38, travellers can dine on local delicacies while learning about the Thirty Thousand Islands area and appreciating its beauty.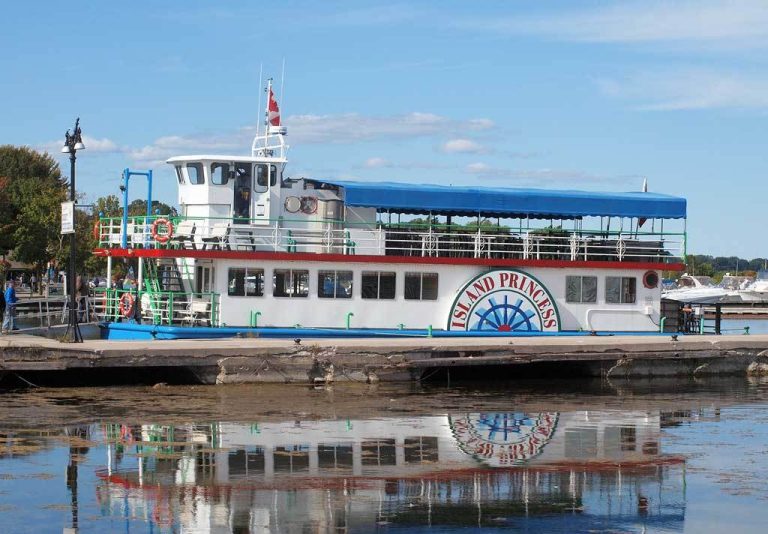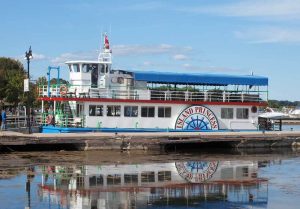 Location: 220 Mississaga Street, Orillia, ON
Distance from Severn Lodge: 51 kilometres
Price range: $25-80
Description: The Island Princess is one of the only cruise ships that offers eight different Muskoka boat tours, ranging from a classic one-hour cruise on Lake Couchiching to an ever-popular steak dinner and dance cruise. This 200-passenger, double-decked riverboat is not only a sturdy, modernized vessel, but she's a visual beauty.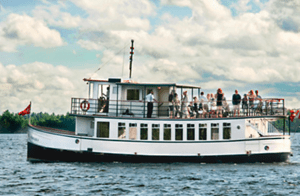 Location: 100 Joseph Street, Port Carling, ON
Distance from Severn Lodge: 57 kilometres
Price range: $25-86
Description: Sunset Cruises' Peerless II, a mighty gasoline tanker, was built in 1946. It's now used for weddings, dinner cruises, and, of course, lengthy Muskoka boat tours. Peerless II, unlike many other nearby boats, has a very low passenger capacity, so we recommend arriving early to guarantee a spot.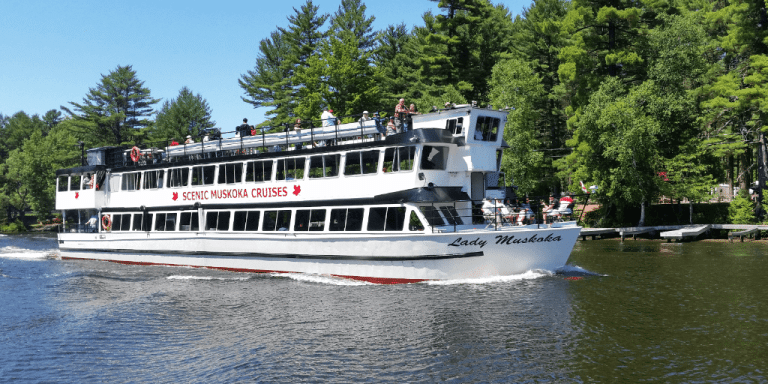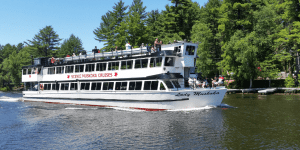 Location: 185 Cherokee Lane, Gravenhurst, ON
Distance from Severn Lodge: 66 kilometres
Price range: $17-64
Description: While we fully appreciate the fact that the Lady Muskoka is one of the most-popular Muskoka boat tours, she's over 80 kilometres away from Severn Lodge. Instead, we always recommend Muskoka Steamships in Gravenhurst. What sets this company apart from all many other Muskoka boat tours is that they have a fleet of ships—three ships, to be exact. We particularly love their themed Central Ontario cruises, such as the "Pirate Cruise" and "Oktoberfest Cruise."
Historic Family Resorts in Ontario

As you can see, Muskoka's waterways are home to many of the premier boat cruises in Ontario, all of which run from mid-May into late October. Before or after a scenic, relaxing Muskoka cruise, don't forget to take full advantage of our seemingly neverending on-site amenities, such as the pristine sandy beach, heated outdoor pool, 100 acres of woodland hiking trails, and numerous watercraft rentals. And there's no better time to book a spring, summer, or fall getaway to Severn Lodge than right now as our special offers are priced to sell fast! Give us a call today at 800-461-5817 to learn why we're consistently ranked among the best lake resorts in Ontario.