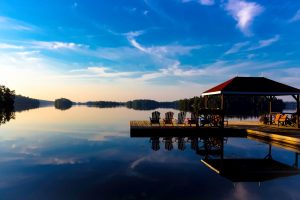 Known to some as "The Malibu of the North," Muskoka, Ontario has historically been a hub for families looking for a beautifully unique vacation spot. With stunning landscapes and wildlife as well as thriving communities, Muskoka hosts some of the best resorts in Ontario for families along with an array of fun lake activities. Here at Severn Lodge, we know just how privileged we are to have such a gorgeous place to call home and want to share just what makes Muskoka such a unique and incredible vacation destination.
Endless Breathtaking Views
Many vacationers come to Muskoka for much of the same reasoning that so many historical groups chose the Muskoka area for their home. The variety of landscapes and waterways create different terrains that were perfect for hunting, trapping, and fishing, and many of the locals and tourists still enjoy these traits for the same reasons. Along with the rugged activities used for survival and game, the area is home to fantastic hiking opportunities, boating, and an endless myriad of photogenic areas that artists and nature enthusiasts just can't get enough of.
All Of The Fun Lake Activities
Coupling with the array of striking landscapes are fun lake activities that guests look forward to each year. Since Severn Lodge sits on the banks of the north shore of Gloucester Pool, miles of jaw-dropping shoreline offer neverending lakeside adventures. Whether you are looking to pull up a Muskoka chair dockside for a relaxing day in the sun or hop aboard a watercraft to venture out over the waves, you can find it all at Severn Lodge in Muskoka. Muskoka is an area that is nearby larger cities for guests to enjoy a bit of city life, yet far enough out that it is an ideal hidden paradise for getting away from it all.
The Perfect Place For Family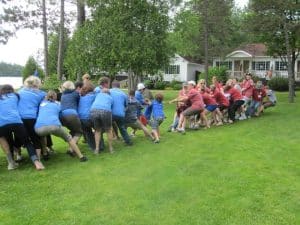 It is easy to see why families favor Muskoka resorts in Ontario for their gatherings. One of the best resorts in Muskoka, Severn Lodge, is the perfect example of lodging that offers accommodations fit for any size group as well as activities that every member can enjoy. The location makes it easy to host fun lake activities like water-skiing and pedal boats as well as incredible things to do on land. Severn Lodge offers volleyball, a supervised kids club program, 100-acres of hiking trails, and so much more! Whether you are looking for the perfect location for your family vacation, reunion, corporate outing, or wedding, Muskoka, Ontario is an ideal area for it all. Find peace and serenity in the gorgeous terrain of Muskoka, as well as an oasis full of fun lake activities and cozy lakefront accommodations. Book your stay with us at Severn Lodge and discover the splendor of the Muskoka area first-hand and discover just what makes our home so incredible and unique!