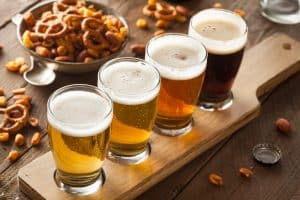 The craft beer industry in North America has skyrocketed over the past decade, seeing unprecedented growth in terms of production, economic impact, breweries per capita, and everything in-between. While we still crave a good, old-fashioned Molson Canadian, Labatt Blue, or Moosehead Lager on most evenings, there's just something marvellous about sipping a pint of beer directly from the source. Most guests here at Severn Lodge don't leave the property during their well-deserved, long-awaited family getaway to Muskoka. There's no need to explore the region with seemingly endless fishing, hiking, and paddling possibilities at the ready. However, there's nothing wrong with a pit stop at one of the premier craft breweries in Muskoka before or after your family vacation. A local company, Muskoka Craft Brewery Tours, does offer daily guided excursions if you'd prefer to visit four taprooms in one day.
The Best Breweries in Muskoka
As we surge ahead into a new decade, there are currently four craft breweries in Muskoka—they're located in Torrance, Gravenhurst, Bracebridge, and Baysville, respectively. Ranking breweries is unquestionably challenging as each Muskoka beer drinker has a unique flavour palate, not to mention preferences in taproom style. Location is equally as important, especially when you're vacationing with the family. We believe that these three selections struck a proper balance based on quality, atmosphere, location, and guest feedback.
Sawdust City Brewing Co.
While most travellers flock to Muskoka Brewery in Bracebridge, our team cannot get enough of Sawdust City Brewing's tasty concoctions, rustic taproom, and Saturday afternoon tours. If you're already planning to visit Muskoka Steamboats, the Bethune Memorial House, or the Auburn Gallery of Fine Art, we highly recommend a brief respite at Sawdust City. It's worth mentioning that Sawdust City is the top-rated Muskoka brewery on Untappd, an online community of beer aficionados. While most recipes don't last more than a couple of months, Sawdust does feature six flagship beers, including the roasty Skinny Dippin' Stout and hazy Golden Beach pale.
Muskoka Brewery
Because all four breweries in Muskoka allow kids, it's becoming more and more common to see mom and dad savouring a beer flight while the little ones draw and sip on root beer. And there's no better locale for families than Muskoka Brewery, a 23-year-old staple with frequent open mic nights, craft expos, and private events. The Muskoka Brewery tour is a must, even for the kiddos! You'll have the rare opportunity to meander through a 40,000-square-foot facility while learning about the brewing process and sampling fresh batches.
Clear Lake Brewing Co.
We chose Clear Lake Brewing over Lake of Bays because Torrance is only 44 kilometres from Port Severn. Their branding, which depicts a man leaping into a sapphire blue lake, perfectly matches Severn Lodge's summertime aura. Clear Lake specializes in sessionable beers, ranging from the extra light Cran Radler to the honey-infused Cream Ale. The taproom itself often hosts communal bonfires, live musicians, and family gatherings during the summer months. Don't forget to purchase some merch before trekking back to the lodge for some beach relaxation, tasty grub, and moonlit bass fishing.
All-Inclusive Lake Resorts in Ontario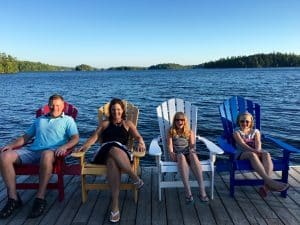 Severn Lodge is the family vacation that you always dreamed about but never experienced. Where else in Ontario can you find a family-focused lodge that offers three daily meals, a lake-view accommodation, countless on-site activities, evening entertainment, and world-class hospitality, all for one low price? If you're interested in learning more about the best boat tours, family reunion locations, and craft breweries in Muskoka, please visit us online. Otherwise, you can reach us at 800-461-5817. We're itching to get back into Gloucester Pool just as much as you!