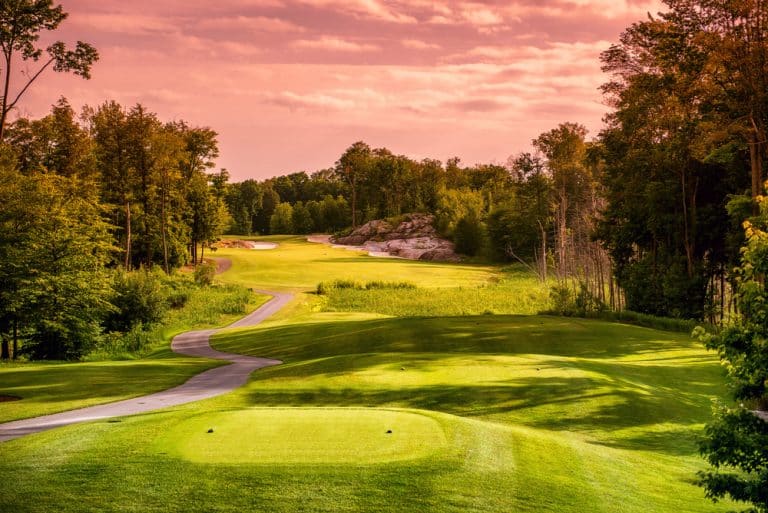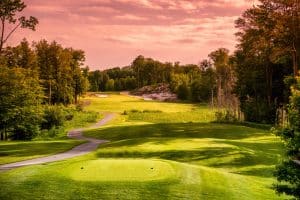 With the holiday season officially in the rearview mirror, it's time to turn our attention to spring's much-anticipated arrival. The entire Severn family is itching to get back into the water this summer. We've been dreaming of hooking largemouth bass, exploring the property's 100 acres of wilderness, and paddling on tranquil Gloucester Pool since Thanksgiving. Yes, Severn Lodge is a world-class, all-inclusive family resort, but we're also centrally located to a variety of off-site attractions, including several top-rated Muskoka golf courses. While rare, some families (particularly ones with teenagers or adult-aged children) do occasionally go off-site for 18 holes of championship golf. We typically recommend an early-morning golf excursion so as to avoid crowds of golfers—you also don't want to miss out on a full afternoon of fun here at one of the premier lake resorts in Ontario.
The Best Muskoka Golf Courses near Severn Lodge
There are dozens of award-worthy Muskoka golf courses within 60 minutes of Severn Lodge, many of which have garnered high praise from several members of our staff as well as annual guests. It wasn't easy leaving a handful of beautiful courses, such as The Rock and Muskoka Highlands, off of this list. But, at the end of the day, these three Muskoka golf courses emanate an idyllic balance of beauty, serenity, and quality.
Bonaire Golf Course, located in nearby Coldwater, is a hidden gem if there ever was one. Golfers from near and far return time and time again because of Bonaire's unrivalled pace of play, pristine greens, and head-turning layouts. The grounds crew does a stellar job maintaining the tees, fairways, greens, and, of course, those vibrant flower beds. The daily rates start as low as $30 per adult (without a cart).
What started as a modest, 18-hole course in 1991 has rapidly blossomed into a jaw-dropping, 45-hole complex near the lake city of Orillia. Hawk Ridge Golf Club rests on 390 stunning acres of dense forestry, azure ponds, and wide bentgrass fairways. Several publications, such as Golf Digest, have labelled Hawk Ridge as one of the "best places to play" in Canada. And it's easy to see why. The natural beauty is only surpassed by the challenging yet distinctive design.
Oak Bay Golf Club is just 13 minutes southwest of Severn Lodge, making it perhaps the most-frequented Muskoka golf course among our guests. Many describe Oak Bay as a "visual feast" as it features a diverse landscape, including striking rock formations, white sandtraps, bright greens, and several picturesque water shots. Because this 18-hole gem rests along countless acres of gorgeous Georgian Bay shoreline, tee times can fill fast—we recommend calling several weeks in advance.
The Best Family Resorts in Ontario
After 18 holes at one of these three Muskoka golf courses, return to Severn Lodge for an afternoon filled with ceaseless lake excitement, fine country dining, and rousing evening entertainment. Don't forget to read up about the region's best craft breweries, boat tours, and family reunion destinations, before giving us a call at 800-461-5817. We cannot wait to see all of your smiling faces this summer here in serene Port Severn, Ontario!