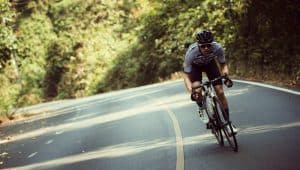 As more and more people continue to rediscover the allure of outdoor recreation, the folks here at Severn Lodge cannot help but yearn for the arrival of Victoria Day, summer's unofficial commencement. Severn Lodge remains one of the top-reviewed all-inclusive resorts in Ontario, thanks in large part to our countless on-site outdoor activities, country-style dining room, and unparalleled hospitality. Our friendly, talented team is dedicated to fostering long-lasting memories for families from all across the province. One of the many ways to create enduring memories together is to explore this densely-forested, lake-spattered region on a bicycle. Muskoka cycling has risen exponentially in popularity over the past decade, as people continuously connect with other bicycle enthusiasts via online clubs. Even families of cyclists are starting to get into the act!
A Handy Muskoka Cycling Guide for the Whole Family
While there are several beautiful areas near Port Severn that cyclists can branch out to, there are two lengthy, undeniably splendid Muskoka cycling routes that carve past our dead-end road. If you're interested in the region's many detailed routes, please visit Discover Muskoka's website. You'll notice that these routes meander through Gravenhurst, Huntsville, Lake of Bays, Bracebridge, and many surrounding communities. That being said, we're going to focus most of our attention on Gloucester Pool, Port Severn, and the Georgian Bay.
The most-frequented Muskoka cycling route near Severn Lodge is the aptly-named Gloucester Pool Circle, a moderately-difficult, 60-kilometre loop that weaves through Severn Falls, Port Severn, and a whole lot of backcountry wilderness. As you'll notice on the map, several cycling routes can be swiftly picked up from the Gloucester Pool Circle, including trips to Fesserton, Coldwater, Washago, and Orillia. To pick up "the Circle," all you have to do is cycle up Gloucester Trail to O'Hara Point Road, where you'll eventually meet up with scenic White Falls Road. We recommend riding counterclockwise to obtain a better view of Severn Sound and The Big Chute.
The Big Chute Loop, which mostly follows the same route as the Gloucester Pool Circle, zags toward Honey Harbour and the Georgian Bay instead of immediately cruising down into the heart of Port Severn. In fact, this ultra-popular Muskoka cycling route purposefully swings onto Picnic Island near Honey Harbour Park. A lot of cyclists utilize this location to rest, refuel, and, of course, enjoy a light picnic.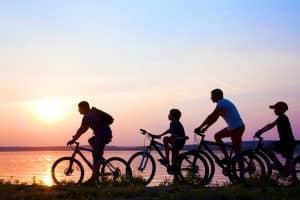 If you're looking for something less strenuous that the whole family can enjoy, many nearby roads see very little motor vehicle traffic. Make sure to bring an extensive map or GSP to avoid gravel roads and dead ends. While we do have a small fleet of mountain bikes on-site, remember to bring your own touring or cyclo-cross bicycle if you plan to travel long distances. Either The Bike Stop and The Crank & Sprocket have a Muskoka bike rental with your name on it.
Classic Summer Resorts in Ontario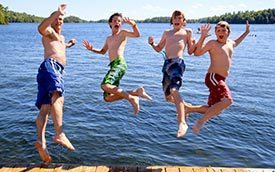 The fact that Severn Lodge is just a short distance from some of the prettiest, most challenging cycling routes in Ontario is only one of our many perks. Spend your afternoons fishing for northern pike, boating on the Sevlo, and hiking on 100 acres of wilderness. Then, after a delicious dinner with family and new friends, watch the sun set below Gloucester Pool, make s'mores around a crackling campfire, and gaze into the blanket of stars above. Please give us a call today at 800-461-5817 to learn more about our many all-inclusive packages, including Victoria Day Weekend and Summer Warm-Up.