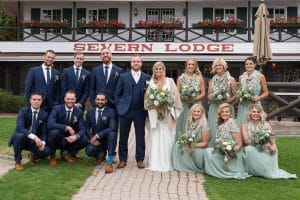 The tall, lush trees that line the banks of serene Gloucester Pool remain covered in layers of frost and coats of fresh snow. However, as one can imagine, spring is so very close with the arrival of Muskoka's lush greenery and budding flowers, the musical chirping of migrating birds, and the smell of fresh morning dew. Everyone here at Severn Lodge is eager to officially open in mid-May and welcome our amazing guests. We're also ardently preparing for the much-anticipated wedding season. We are so grateful that Severn Lodge has been endorsed as one of the top-rated wedding venues in Ontario, according to WeddingWire, Vaughn Berry Photography, and countless brides and grooms who have been married here. We would be so pleased with the opportunity to prepare a proposal. And our on-site event coordinator is dedicated to helping you learn more about the property and answering all of your questions.
7 Essential Facts About Your Potential Severn Lodge Wedding
Severn Lodge is one of the most unique wedding venues in Ontario. We are a family-owned and operated resort with decades of experience marketing, planning, and hosting weddings of all sizes. We've compiled seven essential things to know about your "big day" at Severn Lodge in Muskoka, Ontario.
Severn Lodge provides packages that include exclusive use of the resort, meaning you will have private use of the facilities.

You'll have access to 2,000 feet of Gloucester Pool shoreline.

Our handy

Wedding Kit

outlines everything from on-site catering options to honeymoon add-ons.

The wedding party can choose a package that includes the use of one of our vintage boats. Many arrive at the shore-front ceremony in our classic

1937 Ditchburn motor launch

.

Port Severn is far enough off of the beaten path to provide a peaceful, private destination for your big day. However, we're only 90 minutes from the Greater Toronto Area.

Unlike most outdoor wedding venues in Ontario, we specialize in spring and fall ceremonies, as summer vacations are typically booked by families many months in advance.

Our award-winning Executive Chef has over 20 years of catering experience, so you can expect an exceptional dinner.
Best Wedding Venues in Ontario | The Honeymoon
Please don't overlook the honeymoon! Severn Lodge provides an outstanding honeymoon experience being located in the world-famous Muskoka Lake District. We're just a short distance from exciting boat tours, championship golf courses, bustling craft breweries, and flightseeing tours. As one of the top-reviewed cottage wedding venues in Ontario, we're continuously enhancing the wedding party experience. To learn more about our packages, rates, amenities, and services, please don't hesitate to give us a call today at 800-461-5817.